should always start with ball-licking.


Step 2 on #deepthroatthursday is kissing the tip. Who likes getting their tip kissed.

Step 3 on #deepthroatthursday is to shove #cock down my throat. But #fatcock isn't #wet enough to slide deep…

So I'll lick #fatcock up and down until its soaked.


Back to step 2- kiss #fatcock's tip. I'd love for someone to join me (so would #fatcock).

Boom. #fatcock deep into my throat. Can't get it all the way down, but I'm working on it.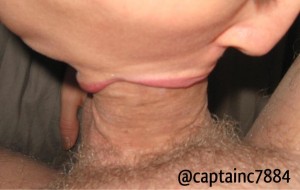 And bonus pic:
if you like my dimple so much that you want to spread my #ass open and fuck me.